#ChooseToChallenge and create your leadership credo
It takes courage to stand up for what you believe in; can you remember a moment when you spoke up even when it felt risky, or when you said something which challenged the status quo?  For most of us this requires us to actively #ChooseToChallenge.
One way you can support yourself to be more courageous in speaking up for what matters to you is to be well prepared.  This means knowing the words you want to say and why you want to use your voice for good.
In the first module of our online Women's Leadership programme, participants get crystal clear on their purpose as a driver for their leadership style and personal brand.  They undertake an assignment called 'Creating your leadership credo' as preparation to speak their purpose clearly and concisely.  This process strengthens their ability to build relationships and visibility to achieve their goals and career ambitions.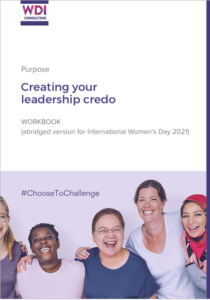 This International Women's Day, we are sharing this simple yet powerful resource as a tool to better advocate for your purpose and your career development.  In the 'Creating your leadership credo' workbook (right), we take you through a two-step process to answer powerful questions about your purpose and then invite you to select the key phrases that create your leadership credo.   (This is an abridged version of the workbook from our online Women's Leadership programme.)  You can download the workbook here.
Credo means 'I believe' and communicates the two-way nature of your statement of purpose.  To eloquently share your purpose, you first need to be clear and connected to what motivates and matters to you.  Then you can confidently voice what you stand for and why it matters.
The theme of #ChooseToChallenge really encourages us to use our voice, presence and influence to support gender equality.  We can do that in the moment as an ally to others, and as an advocate for something we want to be part of, by speaking about our values and purpose more often.
For this reason, we encourage you to use this workbook to make gender equality part of your leadership credo so that you are ready to share it in different situations and environments.
The more we speak our values, the more we build confidence and capability to influence the changes we want to see in the world.
At WDI we are making the pledge to #ChooseToChallenge.  We invite you to join us.
Clare Russell
WDI Consulting Limited