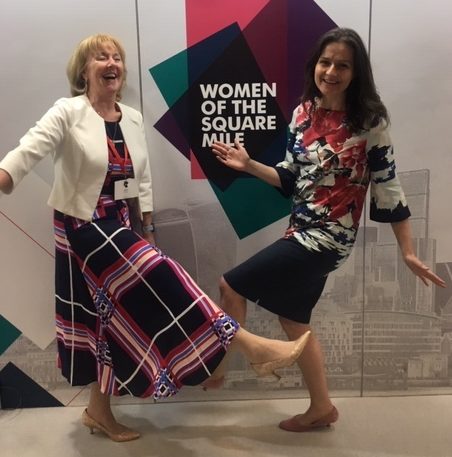 Women of the Square Mile 2019 – Our highlights and workshop
WDI Consulting were honoured to deliver 'The Role Model  Effect' workshop at The Women of the Square Mile Conference.  It was such a privilege to work alongside an amazing group of women both leading the way and making a difference. A fabulous event – a hugely inspiring and rewarding day.
Highlights of the day
There were many and included all of the key note speakers.  We valued the brilliant, authentic, honest and challenging session by Lawrence Shaw and MJ Deverdun and were touched by the power of Dr Kamel Hothi's inspirational story.
Connecting with new people, meeting friends and acquaintances – all sharing a common goal and interest. Our feet were sore by the end of the day but it was certainly worth it – fabulous energy and fabulous women.   We came away inspired and excited about what next.
The role model effect workshop
The Conference gave us a fantastic platform to engage with interested women and share more about our research, our approach and our insights. Our experiential 'taster' session on role models – learning from female archetypes piqued participants interest. People connected with us on the day and in the aftermath – wanting to know more about our Women's Leadership Coaching.
Our ambition is to bring our unique approach to the retention and progression of women out into the world.  Our Women's Leadership Coaching approach focuses on both inner and outer leadership, enabling women to lead from their difference and bring all of who they are into their role and their businesses.
Workshop feedback
"The insights gathered from working with different archetypes was very powerful – a very interesting and different way to experience working with role models."

"I had a breakthrough in this session – very rewarding."

"It was really interesting to look at role models from a different perspective and envision myself following in these footsteps. I especially liked the hands on practical tips kindly shared during the interactive workshop."

"I met some great people, heard some fantastic speakers and thoroughly enjoyed and learnt from the Role Model workshop."
We were delighted to have both experienced and contributed to this fabulous event. Thank you to Maddox Events for this opportunity and for your dedication to achieving more inclusive and diverse cultures.
WDI's Women's Leadership Coaching
Lynn White and Clare Russell have developed WDI's Women's Leadership Coaching, a unique approach that untangles from societal stereotypes to enable women to thrive, bringing their whole-self to work. More information on the archetypes discussed during this workshop can be found here.