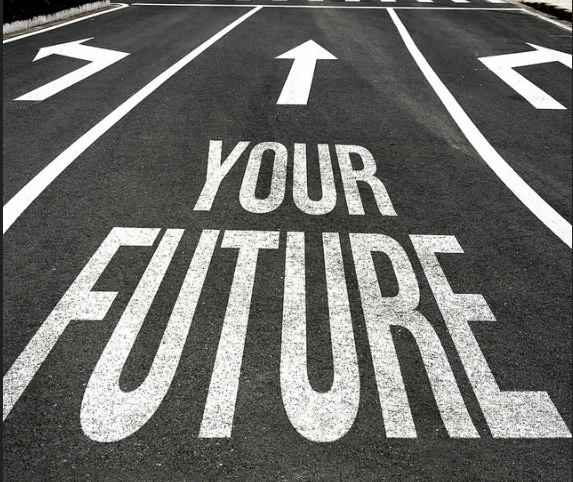 Futures Coaching
A well-known aphorism, probably made most famous by Stephen Covey and earlier by an American monk called Thomas Merton, runs something like this: "We may spend the whole of our life climbing the ladder of success only to find that when we get to the top, our ladder has been leaning against the wrong wall."
So how do we know?  Probably the most asked question arising in my coaching practice, in some form or other, is: "What might I do in the future?"  It might be framed as where am I going?  What might my next job/ career role be?  Is it time to push for the next big job? Is it time for a new opportunity?  Or maybe there's a completely alternative future out there for me?
So how do we decide what the next steps might be?  As coaches we know that the answers don't lie with the coach, but within each of us – albeit sometimes it can feel tantalisingly close and yet somehow just out of reach.
Coaching in a range of different forms, both formal and informal, can be helpful and encourages some answers to emerge.  However, there are also times when we can benefit from a more structured programme of thinking, reflection and, frankly, 'doing the work' which can gently uncover our ambitions, drivers, and personal preferences to build a platform for the future.
For us this has 4 stages:
1. Who am I? – Deepening our insight so we better understand ourselves through building our own unique personal style.
2. Recognising how to maximise our fit and Unique Personal Style with the emerging opportunities – And equally important, recognising where there is a lack of fit and whether we are holding onto old or outdated versions of ourselves to somehow 'shoehorn' who we really are into advertised roles.
3. Developing our own personal narrative – To underpin decision-making and engagement processes.
4. Creating the capacity and confidence – To perform and realise our 'futures' goals.
Put simply, this might be described as: dwell, show, tell, excel.
For those of us who have the time, energy and motivation there are plenty of tools and self help books out there which can support a self-directed journey into this territory.  But we also know that however disciplined we are, there is much to be gained from working alongside someone who has travelled this path before.  Just as with our recent visit to that art retrospective or alternatively to a new city, the presence of a personal guide can not only help us see things we haven't seen before, but also allows us to think differently – to revisit long held views or biases, or to shift our perspective in ways we hadn't envisaged.
Returning then to Thomas Merton.  Will we suddenly realise we have been leaning our ladder against the wrong wall?  Or rather, will we realise that the notion that there was only ever one ladder, or that our past, and certainly future, lives are so tightly constrained, is actually fake news!
Author: Paul Snell, WDI Consulting Limited
(Copyright free image Your Future www.inkmedia.eu)